Creatures on the Move
Bikepacking in Mexico's Sierra Norte
Packing for a trip when you are moving through a landscape by only your own human power with just the items on your body or your bike is a task like none other.  I have always found it the best way to drill down to what you really need in product essentials and function.  The exercise of packing and deciding between two items really makes you realize what is working well in your kit, what is redundant and, thrillingly, how little one actually needs–  especially when the product is built with versatility, performance and adventure in mind. 
In many ways this trip in Oaxaca  was the birth of the Curious Creatures line, where we looked at what we had, and dreamed up ways to make it better, make our packs smaller, make our tired legs feel lighter.  It also combined real technical performance needs with later desire to walk around the artistic town of Oaxaca on vacation and not look like a total goober.
We spent that first morning morning packing our bikes at a leisurely pace in the open courtyard of our small hotel in the old town of Oaxaca.  The staff passing by curiously asked us where we were going.  When we told them "Sierra Notre" and pointed to the hills on our map their eyes widened or they gasped, noting it was a very magical place. They also warned us about jaguars.
We pedaled straight from our downtown Oaxaca hotel in the blistering midday heat, gazing up nervously at the forested peaks above at 10,000 feet.  We passed by colorful stores and streets decorated with papel picado, and schoolyards with children playing and made a last minute stop at the bike shop where they warned us again to watch out for "jaguars". 
As we traversed our way over to the singletrack we realized we didn't bring any cash, just in case we needed/wanted to buy some food on our way down from the mountain.  Pasha zoomed down to an ATM before leaving the city while I waited with a quesadilla.  This extra ATM trip would make his daily elevation 9K feet, with a foolishly late start.
We passed loads of breathtaking street art, delicious lunch smells and curious stares as we started climbing our way up the dirt road we would follow for the next 9 thousand feet to the cloud forest. 

We still had miles of climbing up the steep dirt road before we would get to where we wanted to camp.  With headlamps and handlebar lights on we sunk into that no speaking, no thinking, tunnel vision state of exhaustion, hunger and existential questions such as- I am pedaling but are we even moving? This went on for a few hours as we watched our tiny blue dot on the glow of our phones slowly meander its way towards where we wanted to camp.
We started to grasp just how alone we were out there when we realized it had been hours since we saw that farmer, his dog, and three old donkeys, bundles of firewood on their backs slowly making their way downhill.
Suddenly, we both sat up straight and our breath quickened as we heard the loud crashing of a four legged beast through the forest barreling straight for us. With our lights attached to our bars we couldn't swing them out to see what kind of animal was running along beside us. Suddenly, the creature made a loud snorting growling sound as it ran, matching our pace. We kept pedaling, fear lodged in our chest until a small crest in the climb and luckily a slight downhill. 
"That had to be a mountain lion right?!" Pasha and I exclaimed to each other in the dark, still without stopping or slowing our pace away from the creature. 
"It was huge!" I agreed as I pictured its massive paws crashing through the forest.  This adrenaline would stay with us well into the night and cast an adventurous and mystical glow over our trip. 
Later we would recount this story to all our friends, thrilled at our experience being chased by a real life Mexican mountain lion.  At a Christmas party we would tell our resident Montana mountain lion expert, Janis Putelis, and he would kindly inform us it was definitely most likely a domestic cow.
We finally made it to the slightly flat area on the map we had chosen for camp, quickly made some food and went to sleep.
The next morning took us through giant forests of wild agave plants. These dinosaur-like plants are used to make the smoky mezcal we would later enjoy in town and are a huge industry for the local economy. We were surrounded by air plants nesting on lichen encrusted oaks, clusters of giant ferns, and a candy store of vibrant mushrooms.  The previously dry cactus desert forest turned to a thousand years old oak and pine forest, wetter and more alive with each pedal stroke.
The beauty of this bikepacking route is in the diversity of landscape, in the slow, rolling change of ecosystems from start to finish. Starting in the loud, pavement and cobblestone ridden old town in the center of the Mexican city. Ascending the dirt roads and singletrack watching the landscape get more and more wild, wet, and full of wilderness. Finally, arriving in the cloud forest at the top of the mountain range where you get to experience the crown jewel: Sierra Norte's La Cumbre Ixtepeji trails, with miles upon miles of pretty serious and very well built mtb single track.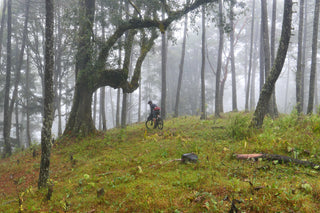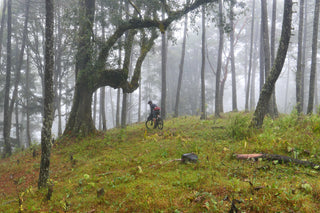 On our final day, we enjoyed a few more laps with our bikes free of baggage and then loaded them up for the final descent back to town. Even with a loaded bike, the lengthy descent provided plenty of thrills and technical sections to maneuver while trying to keep your eyes not too distracted from the beautiful views.
There is nothing quite like that feeling of moving and living on your own human power.  As familiar town sights came into view– a bakery, a bottle of beer– we started to relax into our happy exhaustion, that very specific bliss you only get after an adventure that has it all: physical effort, complex route and trip navigation, and the carefree, pure joy of a long descent. We had made it, could enjoy a hot shower, a cookie, a cold cervesa. 
Bikepacking Essentials Kit
No checked bag needed - except your bike